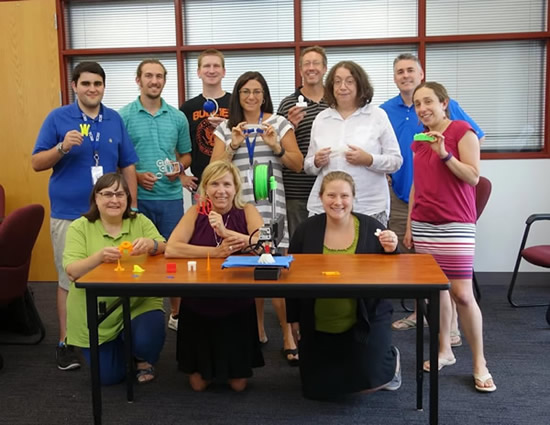 Class Photo CCIU August 2015
3D Printing in the Classroom
is a 3-credit, graduate-level, professional development course for educators who want to learn to integrate exciting transformative, STEAM technology into lessons with students of all levels, elementary through secondary.
You will learn to download and print free items from sites like thingiverse.com or imagine, design, and "print" practically anything from your computer or iPad.
And, YOU KEEP the 3D printer that is included with the tuition!
REGISTER NOW for the hands-on, project-based course at

www.pdcampus.org/3d-printing-in-the-classroom
Contact instructor Curt Minich at cminich@gmail.com or administrator Tom McGee at info@pdcampus.org with questions.
Reasons for elementary or secondary teachers to take the course:
you will earn 3 graduate-level credits,
you will keep the award-winning, user-friendly Printrbot 3D printer,
you will join the STEM & STEAM movement,
you will join the Maker Movement,
you will learn the SAMR model of teaching transformative technology,
your students will be invigorated with hands-on learning with a 3D printer,
you will be able make practically anything with less than $1 worth of plastic,
you will learn 3D modeling, CAD design skills,
you will create an impressive lesson plan to use in a formal observation,
you will develop project-based learning activities for your students,
you will develop & use rubrics for project-based assessment,
you will design & create custom gifts for family & friends,
you will be able to create parts for broken appliances or missing game pieces,
you will be able to share this cutting-edge technology with your own children,
and more!

This course has been taken across Pennsylvania by dozens of teachers including:
librarians, a phys ed teacher, a middle school music teacher, art teachers, math teachers, tech ed teachers, a secondary STEM specialist, an ESL teacher, a special ed teacher, an elementary technology integrator, an integrated science teacher, an elementary guidance counselor, a history teacher, an agriculture ed teacher, many elementary teachers, and others!
Videos of teachers collaborating to solve real-world problems:
Cord Organizer, iPad Stand, Printer Foot, Kitchen Katcher, Filament Clip, Shell Holder
Examples of lesson plans created by teachers who took the course:
5th graders design & print items to sell with a business plan as entrepreneurs

5th graders design & create a service learning project logo

art students create a Rube Goldberg machine

2nd grade library students collaborate with 5th graders to design & print a rubber duck that represents a chosen category of the Dewey Decimal system

special ed students design a nametag with 2D shapes & 3D geometric solids

tech ed students create a natural cellphone amplification device

agricultural ed students print mammal species

middle school science students print atomic models

middle school phys ed students design & print team logo keychains

3rd graders print animals to place in natural habitats that they created

and many more!
Examples of standards met by those lesson plans:
construct scale drawings to represent objects

solve design problems by appropriately applying scientific knowledge

orally present & defend procedures, results, & conclusions of investigations

define a simple design problem reflecting a need or want that includes specified criteria for success & constraints on materials, times, or cost

generate & compare multiple possible solutions to a problem

apply existing knowledge to generate new ideas, products, or processes

create original works as a means of personal or group expression

incorporate the effective & safe use of materials, equipment & tools into the production of works in the arts at work & performance spaces

identify emerging technologies used for educational & personal success

create a digital project using appropriate software for an authentic task

English language learners communicate information, ideas, & concepts necessary for academic success in the content area of language arts

explain how the design process is a purposeful method of planning practical solutions to problems

identify how invention & innovation are creative ways to turn ideas into real things

analyze a prototype and/or create a working model to test a design concept by making actual observations & necessary adjustments

verify that engineering design is influenced by personal characteristics, such as creativity, resourcefulness, & the ability to visualize and think abstractly

verify & apply geometric theorems as they relate to geometric figures

apply geometric concepts to model & solve real world problems
Quotes from past participants' journal reflections:
What an awesome day! Although 3D printing is challenging, it was not as challenging as I anticipated. I never thought I would be printing in a short four and half hours. Honestly, I thought we would open the boxes on day four, print something, take them home, and I would never be able to replicate it again.
First, I was so excited taking the printer out of the box. It was a little surreal because all I kept thinking about was when I first got my Pffaf Sewing machine (the 1473CD), it was a programmable machine, the first of it's kind that allowed you to create your own designs and program the sewing machine to create them. This is kind of the same thing. I can make my own designs and print them in 3D rather than sew them!
My students need to do 3D Printing, CAD Programming, and design because they need to learn to persevere. Too many times they try once and give up. Making mistakes and overcoming obstacles is part of this entire process, this will help my students learn to stick with something and do their best.
The other big realization I came to today had to do with students. For me the real learning is coming in the design not so much in the actual printing. Don't get me wrong, I am learning a lot of troubleshooting for the printer but the actual printing process is not where I am learning, it is in the tinkering that I am learning the most!
I spent all of the night on Day 1 watching YouTube videos with my husband. He is almost more excited about 3D printing than I am.
The team challenge in the afternoon was a great simulation of a K-12 classroom experience. I can envision similar challenges taking place in the elementary grades, and I love how the whole process is authentic.
Anyway, on to the last day of class! What a wonderful day, and what a wonderful class! I woke up with the epiphany for my final project which I will not bore you with again. I don't know that it was any one thing in particular, but everything was just perfect. Every once in a while, I would look around the room and I would think about the different people in the class and how special and unique each of them were and how lucky I was to meet each and every one of them
This class reinforced the fact that I love the process of making and troubleshooting. I am a critical thinker and I can teach that to kids. I know this won't translate to every student, but it will make it to some, and that is why I am here.
"I took a plunge," that's what I told people when they asked, "What's new?" I followed up by telling people that I am taking a 3D printer class. That's how it felt and still feels for me to be part of this class. I said "plunge" because it is exciting and scary all at the same time. I have been teaching for over twenty years and technology has changed a great deal over those teaching years So, I was nervous about learning a new type of technology since I am a little older than some of my classmates and because I am an elementary teacher not specializing in technology. However, my fears have mostly been assuaged after the first class.
Lastly, I appreciate the discussion we had about learning through the process, not just the product. I like thinking about how students need to be problem solvers for many solutions, not just one answer. This class will teach me about the important resources for my students and I to use together. It's about collaboration, creativity, and taking chances.
Think back to the first time as a kid when you rode a bike. There was a moment or more of fear, uncertainty, and excitement that quickly morphed into pure joy. You were moving under your own power and control and suddenly the world opened up in front of you as a place of wonder and infinite possibilities. There was a moment when I was printing my very first 3D object when I felt uncertainty turn to excitement as I realized that I could now do something which I had previously thought of as a skill reserved for others. As an educator I realize that this moment of tapping into a sense of self­efficacy is something which we should strive to facilitate for our students. We can help drive this change from students as passive learners to students as active creators. Using tools such as 3D printers can help to facilitate this change.
I also am surprised by how much is out there on the Internet to download and use and how what types of things you can make with the 3D printers. I did not realize that you could make things that are moveable! When thinking about how I can apply this technology to my classroom this opens a whole new set of doors of opportunity of what you can create with this machine. Teaching agriculture which is very science based and involves a lot of biology I already have found a lot of things that I could make that would be very usable in my classroom like skeletal diagrams of animals we study the anatomy and physiology of.